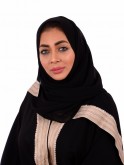 The Rezidor Hotel Group has marked a new milestone in its history by appointing its first Saudi female General Manager in the company and the hospitality industry. Maram Kokandi will be the General Manager of a new Park Inn by Radisson hotel in Jeddah, Saudi Arabia, scheduled to open later this year. The appointment complements the Saudi Vision 2030 launched last year, which emphasizes the significance of Saudi women and their role in leading the development of both social and professional growth of the Kingdom.
Wolfgang M. Neumann, President & CEO, The Rezidor Hotel Group, said, "We are very proud to be part of this historic appointment. We are committed to empowering our women in leadership at Rezidor, and this announcement is a momentous achievement, not only for our group but for the hospitality industry worldwide. We are confident that this milestone, the appointment of the first Saudi female General Manager, will inspire other women across the region to pursue their career aspirations in hospitality."
Kokandi studied hospitality management in the United Kingdom before moving back to the Middle East region, taking up various hospitality roles in Saudi Arabia. She takes on the responsibility of launching the new Park Inn by Radisson Jeddah Madinah Road as its General Manager.