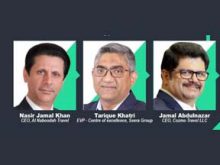 The first TravTalk ME digital conclave themed 'Reselling Tourism' concluded yesterday with a record number of viewers from the Middle East and Asia. The first session included three personalities in the travel trade Nasir Jamal Khan, CEO, Al Naboodah Travel; Jamal Abdulnazar, CEO, Cozmo Travel; and Tarique Khatri, EVP Center of Excellence, Seera Group. They mentioned the importance of the industry to stay positive during these trying and challenging times as there will be a light at the end of the tunnel.
The middle seat in the flight was one area that the viewers were interested in and Jamal Abdulnazar stated that now they have found a special ultraviolet beam that can destroy all viruses and all airports will have relevant methods to ensure a safe journey for the passengers.
Tarique Khatri stated that they have seen a growth in domestic tourism in the kingdom of Saudi Arabia after they started the domestic flights and they have seen travellers requesting for lesser known cities which they have now included in their plans.
Nasir Jamal khan added that the travel agents were kept busy when the travellers needed cancellations and refunds. They further stated that the travel agents were here to stay but the role will have to be more defined.
They further reiterated that Travel insurance will now play a bigger role as destinations will make it mandatory to have one with certain clauses. The industry needs to stay positive during this pandemic times and when the travel will start flowing in as there will be a lot more in business. All three speakers requested the industry professionals to start selling now to see the industry grow.