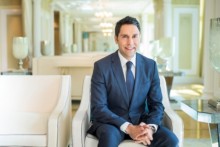 Ras Al Khaimah's hotels and resorts, in line with Ras Al Khaimah Tourism Development Authority (RAKTDA)'s mission to develop the emirate as a world class tourism destination, have engaged their concierge teams in a two-day extensive training programme to  enhance the quality of services provided by hotels across the northern emirate.
Organised by RAKTDA, the Concierge Training Programme welcomed more than 20 participants to Hilton Garden Inn, Ras Al Khaimah. Led by Prof I.S. Mirza, Director Principal, Salgaocar Institute of International Hospitality Education, the training included insights on the UAE's culture and history, traditions, customer service skills, as well as key tourist attractions and projects in the region's fastest growing tourism destination.
Commenting on the course, Haitham Mattar, CEO, RAKTDA, said, "The emirate's hotels are key partners in RAKTDA's drive to help enhance our guests' experience when they visit Ras Al Khaimah and these workshops strengthen our offering. Earlier this year we conducted a Visitors Satisfaction Survey which was extremely encouraging and a strong indicator of the success RAKTDA and our partners have had with positioning Ras Al Khaimah as an all-round destination. We want to make sure we continue offering our visitors the best experience and this can only be achieved by working together with our hotel and industry partners."
The survey, carried out by Nielsen on behalf of RAKTDA, polled a sample of visitors through face-to-face exit or intercept interviews following their stay across a cross section of the emirate's hotels. The results found that 85.5 per cent of those asked were satisfied with their trip to Ras Al Khaimah. The northern-most emirate welcomed 390,499 between January and June 2017, registering an average occupancy of 72.7 per cent – an increase of 4.7 per cent on the corresponding six-month period in 2016. Robust H1 growth was posted across all key performance indicators with total Guest Nights up 17.7 per cent, Average Length of Stay increasing by 10.5 per cent to 3.9 days from 3.5 days last year, and Room Revenue increasing by 13.3 per cent.