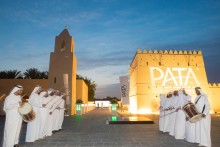 Hosted by the Department of Culture and Tourism–Abu Dhabi (DCT Abu Dhabi), the Pacific Asia Travel Association (PATA) Travel Mart 2018 kicked off in Al Ain Region, as part of the PATA Adventure Travel and Responsible Tourism Conference and Mart 2018 (PATA ATRTCM). Participants engaged through pre-matched appointments, and face-to-face meetings with adventure product buyers and sellers from across the world.
HE Sultan Al Mutawa Al Dhaheri, Executive Director, Tourism Sector, DCT Abu Dhabi, said, "We would like to thank all the delegates for taking part in all the meeting at the PATA Travel Mart this year. We strongly believe in the need to create strong partnerships between the private and public sectors to drive the industry forward.  Our aim to host and attract conferences is to make Abu Dhabi the place to engage with all of our international stakeholders, and exchange knowledge which would benefit our economies and communities."
To conclude the successful conference, delegates took part in a day tour of Al Ain to experience Abu Dhabi's top tourism offerings, including the Al Ain National Museum and Sheikh Zayed Palace Museum, amongst other renowned cultural and heritage sites.