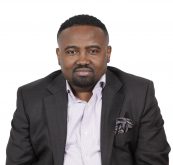 "The sterilisation programmes, safety protocols and regulations guiding airports and airlines have made it all possible for the country and Dubai, one of the world's leading tourist destinations and hub to reopen for visitors," said Timothy Njihia – Country Manager U.A.E – RwandAir.
"As an aviation and Tourism stakeholder, this is a key milestone that signals a safe return of tourism (visitors). The re-opening also coincides with Dubai Summer Surprises 2020 a return to business and finally the elusive revenues that were lost since the cessation of flights on the 25th March. What is important are the safety protocols and precautions in place and the continuous monitoring as this is what led to informed decisions on the resumption of key sectors of business and flights. One cannot underscore the importance of tourism for Dubai and the reassuring messages that have been continuously communicated. They have been very encouraging and a big boost!"
"I personally cannot wait for the July 7, 2020 to welcome incoming visitors who will come to experience the diverse attractions, as well as being amongst the first of Dubai's residents to travel overseas whilst observing the strict new rules for safety. As an airline, we look forward to resuming our daily passenger flights to Dubai at the earliest opportunity and being a contributor and driver to Dubai's tourism," he concluded.