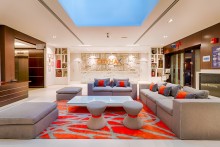 Citymax Hotels launched its new brand identity that is being rolled out in phases across the group's portfolio of hotels. All operating hotels will be renovated to provide guests with a more contemporary experience while leveraging the brand value of Citymax Hotels.
Russel Sharpe, COO, Citymax Hotels, stated, "Citymax Hotels is being revitalised through a series of marketing and product design improvements to meet our guests' expectations and strengthen our market positioning. Everyone loves something extra- be it extra space, extra comfort, extra connectivity or extra value and that's exactly what Citymax has to offer."
The first hotel to implement the new brand identity along with product enhancement is Citymax Hotel Al Barsha. The hotel has renovated its reception, lobby, corridors and guestrooms along with bathrooms on first, second and third floors with an imaginative design concept. Other facilities, including the dining outlets, will also be enhanced over the next few months.