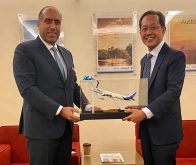 Kuwait Airways announced the signing of a bilateral interline agreement with Malaysia Airlines to enhance the framework of cooperation between the two carriers in the commercial air transport sector, commencing from 1st April 2023. The agreement was signed by Kuwait Airways' Chief Executive Officer, Eng. Maen Razouqi and the Chief Executive Officer of Malaysia Airlines, Captain Izham Ismail on the side-lines of a ceremony held in the Malaysian capital of Kuala Lumpur, which was attended by numerous officials, representing both airlines.
Speaking on the occasion, KAC's Chief Executive Officer, Eng. Maen Razouqi stated, "Kuwait Airways is pleased to sign the bilateral interline agreement with Malaysia Airlines. This agreement is the first partnership which will further facilitate a strategic cooperation with Malaysia Airlines, across multiple areas and in all fields of the aviation sector. This is also an important part of the historical and strong relations between the State of Kuwait and the Kingdom of Malaysia, which are characterized by an understanding at all political, economic, and cultural levels between both the countries."
Razouqi added, "This strategic cooperation will benefit all parties, as Malaysia Airlines is one of the leading airlines in the regional and global market with a great history in the aviation sector. We are hopeful that this agreement will bring about the best prospects through the expansion of both airlines' global network and contribute effectively to achieving the desired objectives."
Razouqi continued by saying, "The enhanced partnership will enable Kuwait Airways to expand its network and serve its passengers through Malaysia Airlines operations, connectivity to several cities in Asia Pacific, Australia and New Zealand including to Sydney, Melbourne, Perth, Auckland, Tokyo, Taipei, Seoul, and Singapore, in addition to popular tourist destinations within Malaysia."
"This agreement will support the operation of Kuwait Airways and Malaysia Airlines to points beyond on Kuwait Airways' network in the Middle East, North Africa and Gulf Cooperation Council countries", explained Razouqi.
Razouqi concluded his statement by emphasizing on these fruitful relations and cooperation, expressing thanks and appreciation for the productive efforts of Malaysia Airlines in making this partnership a success.
On his part, the Chief Executive Officer of Malaysia Airlines, Captain Izham Ismail said, "We are pleased to enter a new chapter in the long-standing relationship between Kuwait Airways and Malaysia Airlines, which is expected to add value to our customers and offer them various options, greater efficiency, and a more comprehensive network. The Middle East market is important to Malaysia Airlines, and we are constantly striving to expand our network and range of products to better serve this sector."
Ismail concluded, "We look forward to working with Kuwait Airways and creating a greater cooperation between our expanded networks, to provide new services and diverse solutions to our customers from both sides."