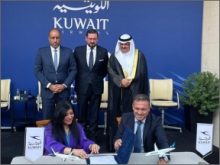 Kuwait Airways announces the signing of a partnership agreement with Air Europa by which both companies will increase their cooperation and provide better flight options to their valued customers. The outcome of this agreement which comes into force in the coming months, enables Kuwait Airways to also add Air Europa's code on the three direct weekly flights Kuwait Airways operates between Kuwait and Madrid, as well as in Kuwait Airways operations in other European cities such as Amsterdam, Rome, Frankfurt, and Munich. On its part, Kuwait Airways reinforces its presence in the Americas by placing its code on Air Europas transatlantic flights that connect Madrid with Cancun, Miami, Cuba, Sao Paulo, and Bogotá. Moreover, Kuwait Airways will have its code on Air Europa flights between Madrid and the Portuguese cities of Porto and Lisbon, Moroccan city Marrakech, and on all domestic routes within Spain.
Speaking on this occasion, the Director of Network Planning and Distribution, Mrs. Shorouk Al-Awadhi, expressed her happiness over the signing of this partnership agreement which will strengthen the commercial relationship between both sides. She said, "Kuwait has a very strong, long-standing relationship with Spain and this agreement with Air Europa comes at a time when the industry is trying to overcome the pandemic and I am sure this relationship will not only benefit both the airlines, but also the people of the Americas, Europe, and the Gulf. Moreover, the agreement will add 18 new destinations to the Kuwait Airways network, 10 of which are in Spain and a further 8 international destinations into Europe, North & South America, and Mexico."
Al-Awadhi added that its flights into Madrid currently stand as three flights a week, moreover, this will increase to 4 flights starting from 9th January 2023 to Madrid. Representing Kuwait Airways, the delegation during the event consisted of KAC's CEO, Eng. Maen Razouqi, Shorouk Al-Awadhi, Director of Network Planning and Distribution, Manne Al-Manne, Regional Director of Americas, Europe, Middle East & North Africa, and Fatimah Alramadhan, Assistant Director of Agreements & International Industry Affairs. Also present on behalf of Air Europa were Imanol Pérez, Commercial Director, and Estelle Leray, Director of Alliances.