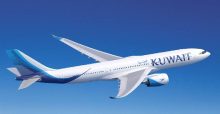 In line with Kuwait Airways' expansion plans in the Far East, the company announced the inauguration of its new sales office in Kuala Lumpur, Malaysia. The company celebrated the opening of the office in the presence of Kuwait Airways' Chief Executive Officer, Eng. Maen Razouqi with numerous officials attending the event consisting of dignitaries and representatives, headed by the Ambassador of the State of Kuwait to the Kingdom of Malaysia, H.E. Rashid Al-Saleh, and his accompanying delegation, as well as various officials from the Civil Aviation Authority of Malaysia, Malaysia's Ministry of Tourism and Culture, travel and tourism companies, and various media representatives and also included honouring outstanding partners from travel and tourism offices.
Speaking on the occasion, Kuwait Airways' Chief Executive Officer, Eng. Maen Razouqi welcomed the attendees, and extended his sincere thanks to the guests for accepting KAC's invitation. Razouqi in his speech stated, "Kuwait Airways is pleased and honoured to be present to participate in the inaugural ceremony of its new sales office in Kuala Lumpur and to honour our successful partners. The opening of the office comes within the framework of the Blue Bird's preparations for the summer season of 2023 and is part of the company's objectives to expand and launch new destinations to provide the best services to our valued customers, in addition to meeting their requirements. The new office is situated in a distinguished location in the heart of Kuala Lumpur, which is easily accessible to KAC's customers."
Razouqi added, "Kuala Lumpur is one of Kuwait Airway's most important destinations. Since its launch in October 2022 with two flights per week, there has been a growing demand from our valued passengers to travel to this destination. Accordingly, Kuwait Airways increased the number of flights by three flights per week operated on the Airbus A330-800. Moreover, Kuala Lumpur also distinguishes itself as a suitable destination for holidays and is considered the cultural, financial, and economic hub of Malaysia and the Far East."
Razouqi concluded by saying, "Kuwait Airways is diligently striving to expand its horizons of joint cooperation, especially in the field of commercial air transport, which will contribute effectively to assisting passengers to the fullest and providing them with all means of comfort for their travel.
During the visit, Kuwait Airways' CEO reached an agreement to carry part of Malaysian Hajj and Umrah travellers on Kuwait Airways, ensuring that they have a relaxed, peaceful travel experience.