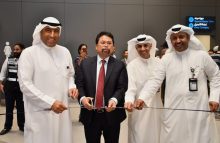 Kuwait Airways announced the commencement of its first flight, KU409, to the capital city of Kuala Lumpur, Malaysia on Sunday, 2 October 2022. Operations to Kuala Lumpur includes two flights per week on Sundays and Wednesdays, during the month of October, followed by three flights per week on Tuesdays, Thursdays, and Saturdays from the month of November onwards. On this occasion, Kuwait Airways Chief Executive Officer, Eng. Maen Razouqi, stated, "Kuwait Airways is pleased to launch its first commercial flights to the city of Kuala Lumpur, the capital of Malaysia, which is one of our most important new destinations with its touristic prominence and rich diverse culture. Moreover, Kuala Lumpur also distinguishes itself as a suitable destination for holidays and is considered the cultural, financial, and economic hub of Malaysia and the Far East. We will be using the Airbus A330, which is environmentally friendly, and suitable for medium to long-haul destinations, with its unique features for the 8-hour flight from Kuwait to Kuala Lumpur."
Razouqi added, "The launch of Kuala Lumpur destination comes as part of the companys strategy to expand its network to various destinations and locations, linking Kuwait to the world with an excellent reach, and meeting the requirements of the local, regional, and global aviation market. In addition, the Blue Bird constantly strives to meet the requirements of its valued customers by operating to new and diverse destinations and providing them with better travel options. Launching this destination will also contribute to the development of business, tourism, trade, and economic activity, in addition to the movement of passengers and cargo."
Razouqi added, "Kuwait Airways is keen to serve its customers to the fullest, in line with its objectives and with its new fleet. This launch follows Kuwait Airways' successful commencement of operations to destinations such as Madrid, Casablanca, Izmir, and so on, in addition to Taif and Medina. Moreover, preparations are being completed to commence operations to Kathmandu and Maldives in the following months."    ​
On his part, the Ambassador of Malaysia to the State of Kuwait, H.E. Dato Mohammad Ali Selamat expressed his happiness on the launch of Kuala Lumpur as a destination, which is an important part of the cooperation between the State of Kuwait and Malaysia, contributing significantly to strengthening relations between the two countries and promoting development in various other fields.
Similarly, the Director of Customer Services Department, Mr. Meshal Al-Mutairi said, "We are pleased to launch and commence scheduled commercial flights to Kuala Lumpur. This destination is one of the most important new destinations of the company which was selected after careful and comprehensive research of the requirements of the local travel market and of our valued customers."
Al-Mutairi pointed out that Kuwait Airways was steadily progressing towards digital transformation and reaching beyond excellence. Moreover, he explained that customers could make their reservations through different channels, starting with the Kuwait Airways website and KAC application. In addition, customers can receive assistance or make enquiries through KAC's WhatsApp, on 22200171 or by contacting the Call Center on 171. Customers can also visit the Company's offices at the Avenues Mall, the Ministries Complex, the Farwaniya Office and Terminal 4, which provide numerous services, including reservations, amending, upgrading and ticket cancelations, as well as assistance with all enquiries, complaints, and comments from customers.