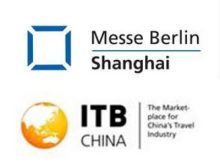 ITB China organizers have announced to launch an ITB China Special Edition in 2021. The two-day business event will make its debut in Beijing from May 7 – 8,  2021, to deliver an innovative showcase for business exchanges while providing a stage for sharing industry insights for the travel industry. The regular edition of ITB China 2021, together with the accompanying ITB China Conference in Shanghai, is being rescheduled to November 24-26, 2021.
"Fueled by promising news about vaccine developments we all anticipate upward trends in 2021. The way to real market recovery, however, will be a steady and gradual one that our industry will have to walk jointly in order to reach a post pandemic new normal", said David Axiotis, General Manager of ITB China, further adding, "As the next major milestone, ITB China is once again leading the way with a tailor-made event format, the ITB China Special Edition 2021. Taking place in Beijing in spring next year, we expect a promising outlook on cross-border travel and emerging business opportunities at that time. Lastly, ITB China 2021 in Shanghai is set to once again serve as the leading platform to connect with the world's largest travel source market, strategically rescheduled to the end of the year, paving the way for a strong rebound of the industry in 2022."
"The progressive recovery of the Chinese travel market is a highly encouraging sign to the tourism sector in Europe. Together with our members, we will continue monitoring the latest changes in the industry and building on our close cooperation with Chinese partners to prepare for a speedy recovery of international travel as soon as the health situation allows," said Eduardo Santander, Executive Director of the European Travel Commission.
"Given the impact of COVID-19, the structure of the Chinese travel industry and consumer demand has undergone major changes. Therefore, it is crucial to accelerate the progress of the digitalisation of the business world, in which basic technologies improve the efficiency of information interactions in the upstream and downstream parts of the value chain, and update and iterate products quickly", said He Yong, President of HCG Travel Group.