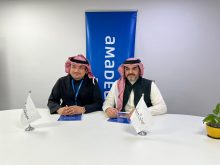 Amadeus and House of Travel Bahrain have renewed their ongoing partnership with the signing of a new multi-year agreement. This will help one of Bahrain's leading travel agencies to benefit from the latest optimization and digitalization tools as well as a host of other technology.
Eng. Nashat Bukhari, GM – Amadeus Saudi Arabia & Bahrain, commented, "We are thrilled to continue working with House of Travel in Bahrain as part of this new, multi-year agreement. The suite of Amadeus solutions that will be deployed is designed to help House of Travel enhance its leading position in Bahrain. The agency will also benefit from advanced optimization and productivity tools, and market insights."
Jehad Amin, CEO & Vice Chairman – House of Travel, added, "At House of Travel Bahrain we only work with the best partners, so we can deliver on our mission to improve the customer and traveller experience. After a thorough review, we're delighted to have selected Amadeus as our preferred technology partner. Thanks to this ongoing partnership, House of Travel's consultants will be able to spend even more time focusing on serving the needs of customers and delivering an unmatched level of service."
Highlights of the deal include the deployment of touchless, robotic tools to accelerate and automate administrative functions as well as Amadeus Online suite, a complete end-to-end online booking solution with integrated payment gateway and trip notifications. House of Travel Bahrain will also benefit from the latest market insights from Amadeus.