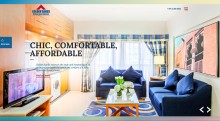 Golden Sands Hotel Apartments, part of A.A. Al Moosa Enterprises launched its redesigned website www.goldensandsdubai.com. Featuring an upgraded design, innovative booking engine, with vibrant photos of the property and its facilities, the new look and feel of the website gives a true reflection of what awaits visitors.
Mohammed Khoori, General Manager of Golden Sands Hotel Apartments said, "We are proud to launch our newly redesigned website, a result of extensive research conducted on the latest trends in the travel and hospitality industry. The site offers an easy and user-friendly online booking system for both leisure and business travellers. We invite you to visit the site to get a feel of your "home away from home" destination."
The fresh platform allows users to book rooms by individual unit or by category and checks availability with just a few clicks. Viewers can see special promotions, book and receive immediate confirmation. The website can be accessed using your desktop, laptop, tablet or mobile phone.