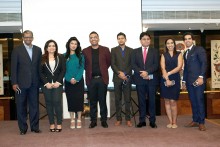 In a bid to attract a bigger share of Indian visitors to the UAE, the team of Golden Sands Hotel Apartments, part of A.A. Al Moosa Enterprises and pioneered the concept of hotel apartments in the region, recently returned from a  successful roadshow in Pune. Headed by Shazia Ahmed, Sales Manager the team visited India together with Orient Tours and met with more than 150 top agents from the city of Pune who are marketing Dubai in large numbers.
Shazia Ahmed, Sales Manager, noted: "We have a very successful event. This show provided us the ideal platform to interact with key agents on one to one basis and the results definitely affect the future business. It is good to have Dubai delegates gathered in one roof to give information and answer questions from the agents from India. It was a very good face to face interaction and it helped increase their knowledge about the UAE. It was so heartwarming to hear that some of the agents attended the event because they heard about our participation. It only meant the popularity of GSHA all over India."
"The Indian market is in our top three visitors because we offer good value for their money and because of our ideal location thus we are expecting an increased number of guests from this market this year, both from our loyal and new guests," said Mohammed Khoori, General Manager.
Golden Sands Hotel Apartments receives a monthly average of 25% to 30% of their total hotel guests from the Indian market. Golden Sands Hotel Apartments offers a wide range of facilities and holidaymakers can benefit from its favorable location close to the city's exhibition center and attractions. It is a fully serviced hotel apartment with spacious rooms than can comfortably accommodate two adults and one child less than 12 years. Each room features a queen sized bed, a sofa bed, as well as a kitchenette, living/dining area & bathrooms with shower.