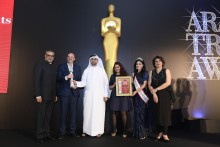 Ghaya Grand Hotel has won the Arabian Travel Awards 2018 for the Luxury Serviced Apartment Hotels category at a glittering ceremony held at the JW Marriott Hotel, Deira on September 20, 2018. The award was received by Ossama Kachkouche, Director of Sales and Marketing.
"We are extremely honoured to be recognised at the recent Arabian Travel Awards. It was a special feeling when all of our hardwork was acknowledged, it's a seal of approval that we are on a right track and we should continue to maintain and improve our hospitality services." Kachkouche said.
Arabian Travel Awards is a platform for the Middle East to recognise people behind the success of the travel & hospitality industry to make them believe they are achievers. Planned as an exclusive one-of-its-kind event, this award ceremony is held annually. With many people putting their trust in the travel & hospitality industry, Arabian Travel Awards aims to host a world-class recognition for the best in the industry. Based on a unique system of jury, judgment and voting, these awards are fair and unbiased.