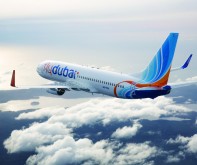 flydubai launched two new seasonal destinations for next year- Dubrovnik, Croatia and Kutaisi, Georgia; the latest additions to the airline's European network for the 2018 summer period. Flights to the Croatian coastal city will operate up to four times a week from April 10 until October 25, 2018. Along with Tbilisi and Batumi, Kutaisi will become flydubai's third point in Georgia and will be served with three weekly flights between June 14 and September 22, 2018.
"For the first time this year, we offered our passengers direct flights to popular summer destinations and based on the success of these routes, we decided to increase the options for next year," said Ghaith Al Ghaith, CEO, flydubai.
Flights to Batumi, Georgia will resume from June 16 until September 30 next year with a daily flight, an increase from the three-weekly service operated last summer. Tivat on the other hand, will resume with up to three weekly flights from March 26 until October 26, replacing the existing service to Podgorica currently operating during the winter schedule.