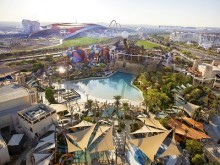 Experience Hub is set to participate at the South Asian Travel and Trade Exhibition (SATTE) taking place from January 16 to 18, 2019 in Delhi, India for promoting Yas Island Abu Dhabi as a one-of-a-kind destination for the UAE holidaymakers. It will highlight many of the island's award-winning attractions while underscoring collaboration opportunities for travel companies in the South Asian market.
Marina Cipriano, General Manager, Experience Hub, said: "We are deeply invested in India, which at a 20 per cent year-on-year growth rate is one of our fastest growing markets for Yas Island. SATTE 2019 is the perfect platform for us to further engage and strengthen our relationships with existing travel partners, while also expanding our network across the country. As always, we are keen to work hand-in-hand with the travel industry to deliver best-in-class services, and ensure we can provide Indian travellers visiting Yas Island Abu Dhabi with unrivalled entertainment value."
Following its launch in January last year, Experience Hub demonstrated its commitment to the Indian market by expanding its presence in the country, with the establishment of key offices in Mumbai, Delhi and Bengaluru. Experience Hub also embarked on several roadshows and events, in collaboration with the Department of Culture and Tourism Abu Dhabi and Etihad Airways, in an effort to further meet the particular needs of the Indian travel market.