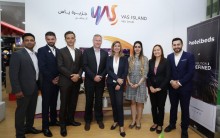 The trade and promotion arm of Yas Island Abu Dhabi 'Experience Hub' announced a strategic agreement with Hotelbeds, the world's leading business-to-business bedbank, which will result in a new and wider distribution of leisure and entertainment experiences to the international travel trade. The agreement was officiated during the Arabian Travel Market (ATM) in Dubai, with representatives at the Yas Island stand were Experience Hub's General Manager Marina Cipriano, and Vice President, Sales, Bruno Wiley. Hotelbeds was represented by Michael Lynden-Bell, Beyond The Bed Sales & Sourcing Director – MEAPAC at Hotelbeds,  and Mahesh Ammanath, Regional Sourcing Manager at Hotelbeds.
Speaking about the signed agreement, Marina Cipriano, General Manager, Experience Hub, said, "Yas Island is now firmly established as a unique tourism destination which offers visitors to the UAE a diverse mix of leisure and entertainment, including three award-winning theme parks. Partnering with Hotelbeds will allow us to showcase Yas Island's offerings to an even wider audience abroad and support our efforts to connect international markets to our one-of-a-kind destination."
Michael Lynden-Bell said, "We are very excited and pleased to confirm that a strategic agreement has been forged with Yas Island, one of the world's fastest growing leisure and entertainment destinations. This news reflects our commitment to Abu Dhabi and the UAE as a whole, and demonstrates the confidence that partners, such as Experience Hub, place in our business-to-business bed and ancillary bank to access incremental and high-value clients".
Experience Hub will broaden its product distribution network and reach, driving increased awareness of Yas Island as a leisure and entertainment destination, while Hotelbeds – along with its Beyond The Bed division – will expand its offering beyond accommodation to include packaged experiences to high value clients, through its network of 60,000+ tour operators, its points redemption schemes, airlines as well as its retail travel agents.