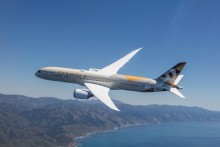 Etihad Airways and the Department of Culture and Tourism – Abu Dhabi are taking Jeddah residents on an immersive tour of Abu Dhabi across VOX Cinemas using 3D projection mapping. This is the first time this technology is being utilised to promote a destination in the Kingdom of Saudi Arabia, and the wider Middle East region.  This month, projection mapping will turn VOX cinemas into a theatrical stage to provide viewers with a simulated first person experience of what it's like flying with Etihad Airways to Abu Dhabi.
Tim Burnell, Vice President Marketing, Etihad Airways, said, "Abu Dhabi is a dynamic capital with a wealth of exciting opportunities to offer to every type of traveller. We are delighted that today's technology can showcase what our airline and capital has to offer, by bringing the experience to them, making them feel like they are actually here."
Viewers will board an Etihad aircraft and walk around the Business Cabin before being transported to world-famous leisure attractions including Ferrari World Abu Dhabi, Yas Waterworld and to Warner Bros. At World Abu Dhabi, famous cartoon and comic characters such as Bugs Bunny and Batman will interact with the audience. The journey continues to a mangrove forest, followed by miles of beautiful white sand beaches and a live cooking demonstration, before closing on Abu Dhabi's rich skyline.