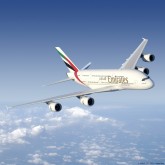 Emirates announced the deployment of its latest Boeing 777-300 ER aircraft fitted with the 'Game Changer' First Class suites on its Dubai-Malé route from June 1, 2019. The Maldivian capital will become the first destination in the South Asian region to be served on a regular basis by the new aircraft. Passengers travelling to and from the idyllic archipelago on Emirates flights EK658 and EK659, one of three daily non-stop services connecting Malé, with Emirates' hub in Dubai, will be able to experience the fully-enclosed First Class private suites inspired by luxury automaker Mercedes-Benz.
"The Maldives has become an increasingly popular destination for Emirates, attracting premium travellers, honeymooners and families from around the world. Introducing the new Boeing 777 with the state-of-the-art First Class suites on this route reaffirms our longstanding commitment to Malé," said Ahmed Khoory, Senior Vice President, West Asia & Indian Ocean, Emirates.
Travellers to and from the Maldives can experience the new Emirates Boeing 777 product on flight EK658 departing Dubai daily at 04:20hrs and arriving in Malé at 09:30hrs. The return flight EK659 leaves Malé at 11:00hrs, arriving in Dubai at 14:00hrs.
From First Class through to the Business and Economy Class cabins, the latest Emirates Boeing 777 aircraft features ergonomically designed seats, multi-million dollar upgrades and the latest version of the ice inflight entertainment system across all cabins. Designed with an emphasis on exceptional customer comfort and ultimate privacy, Emirates 'Game-Changing' Boeing 777 private suites feature floor-to-ceiling sliding doors and ultra-modern design features against cool grey colourscapes. Offering up to 40 square feet of personal space each, the spacious, fully-enclosed private suites are laid out in a 1-1-1 configuration, for a total of six suites.