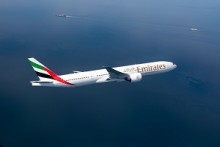 Emirates will be providing more options for its customers in Riyadh with the introduction of the first scheduled Airbus A380 service to the capital city, effective from April 21, 2019. Riyadh will be the 51st destination to join the Emirates A380 network. Flight EK 817/818, currently operated by a Boeing 777-300ER, will now be operated by the iconic and highly popular Emirates A380. The Emirates A380 aircraft will be operating on the route five times a week.
Emirates flight EK 817 will depart Dubai at 18:50hrs, arriving in Riyadh at 19:35hrs. The return flight EK 818 leaves Riyadh at 21:25hrs, arriving in Dubai at 00:35hrs the next day. The deployment of the iconic double-decker aircraft will offer business and leisure travellers from Riyadh even more connection opportunities for a seamless 'all A380' journey to business hubs such as New York, London and Hong Kong as well a leisure centres like Mauritius and Barcelona.
Adil Al Ghaith, Senior Vice President Commercial Operations Gulf, Middle East & Iran, said, "With the introduction of a regularly scheduled A380 service to Riyadh, Emirates is once again reaffirming its ongoing commitment to the Kingdom of Saudi Arabia by catering to growing passenger demand.  This A380 service complements the newly introduced Game Changer Boeing 777-300ER on the route, which means that customers travelling to and from Riyadh can enjoy our latest flagship products. The introduction of the A380 to Riyadh also supports Saudi Vision 2030 by helping to grow the Kingdom's aviation sector through stimulating robust traffic growth, increasing connectivity and deepening its global footprint."
The Emirates A380 aircraft that will serve the Dubai-Riyadh route will be set  in a three-class configuration, with 429 spacious seats in Economy on the main deck, 76 fully flatbed seats in Business Class and 14 First Class private suites on the upper deck.