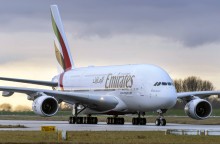 In an effort to launch a scheduled A380 service to Pakistan, Emirates will deploy a one-off A380 to Islamabad on July 8. The airline's iconic double-decker will make its inaugural arrival in Islamabad on a special flight EK2524/EK2525. The A380 flight will depart Dubai on July 8 at 08:00 hrs and arrive in Islamabad at 12:10 hrs. The flight will depart Islamabad at 15:40 hrs and arrive in Dubai at 17:45 hrs on the same day.
"We are proud to bring our flagship A380 aircraft to Islamabad, and we look forward to showcasing our innovative products on-board this iconic aircraft with the signature Emirates service. While this is a special flight, we are very keen to launch a scheduled A380 service to Pakistan and will continue to work with authorities to realise these plans," said Sheikh Majid Al Mualla, Divisional Senior Vice President – Commercial Operations Centre, Emirates.
The Emirates A380 aircraft on this special one-off service will be in a two-class configuration offering spacious seats in Economy Class and fully flat-bed seats in Business Class as well as Emirates' popular Onboard Lounge. Passengers in all classes enjoy free Wi-Fi to stay in touch with family and friends and Emirates' multi-award winning 'ice' inflight entertainment with up to 3,500 channels of movies, TV programmes, music and podcasts on the industry's biggest personal screens in each class of travel.