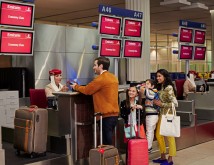 Emirates expects high passenger traffic on its flights this upcoming weekend, as travellers journey out for their summer holidays and long breaks. Over 220,000 travellers will be passing through Emirates Terminal 3 during the upcoming two weekends. Emirates reminds customers to arrive at the airport at least three hours before flight departure, and customers are encouraged to plan extra time to avoid potential delays. Passengers can physically check in at the airport as early as six hours before departing on their flight. They are requested to check in no later than 90 minutes prior to departure, regardless of class of travel. Customers who check in less than 60 minutes prior to their scheduled flight departure will not be accepted for travel.
Customers can also check in online on both their desktops and mobile devices from 48 hours to 90 minutes before flight departure. In addition to these online check-in services, Emirates also offers check-in facilities near its car park area. Customers can use these to check in and drop off their luggage from 24 hours to six hours prior to departure. Along with checked in baggage, passengers are strongly advised to adhere to carry-on baggage weight limits, which are 7kg for Economy Class and 14kg for Business and First Class. Staff will be checking the weight of carry-on bags at various touch points before passengers board their flights.
For a more convenient way to check-in, especially for families, groups and passengers with tight schedules, Emirates also offers home-check in, allowing customers travelling across all classes to check in for their flights from anywhere in Dubai.