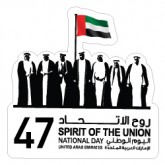 The United Arab Emirates (UAE) is all set to celebrate its 47th UAE National Day, as Dubai lights up with festivity and cheer. From special concerts, mall shows, city attractions and fireworks to promotions and traditional entertainment across the emirate, residents and visitors will be spoilt for choice as Dubai puts on a stunning display of activity to honour the UAE milestone.
Ahmed Al Khaja, CEO, Dubai Festivals and Retail Establishment (DFRE), an agency of Dubai Tourism, said, "This National Day, we want everyone – from Emiratis to Dubai's residents and visitors – to embrace this momentous occasion. We are delighted to announce a vast array of activities taking place all over the city to mark the festivities, and are grateful to our city-wide strategic partners who have really pulled out all the stops to ensure that everyone gets to celebrate this great nation. With a host of events and celebrations taking place across Dubai, we anticipate a lot of footfall over the National Day weekend and encourage visitors to get to the venues as early as possible to really maximise their experience."
A number of events will be held in the emirate to mark the ocassion. On December 1, emirati artist Ahlam and Iraqi singer and composer Walid Al Shami will delight audiences with their repertoire at Burj Park, while famous Emirati singers Bulqees and Hussain Al Jasmi will perform at the same venue the next day. At Global Village, Emirati superstar Hamad AlAmeri will draw fans in with a special concert. Residents and visitors to Dubai will be able to witness a special treat with fireworks taking place across the city.
Mall of the Emirates will be commemorating the UAE National Day with three themed shows from December 1 to 3 that will take place in the Central Galleria, among several other activities.