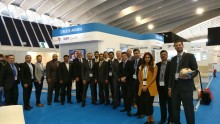 A delegation from the Kingdom of Bahrain took part in the 'Seatrade Cruise Med' held between September 21-23, in Tenerife, Spain, with an aim of further promoting the Kingdom as a tourism destination. The delegation included Yousif Al Khan, Director of Tourism Marketing and Promotions at the Bahrain Tourism and Exhibitions Authority and Amal Jamal from the Economic Development Board (EDB). The Bahraini representative's participation in the event came as a part of a comprehensive team representing the Gulf region under the name of 'Cruise Arabia'.
"The main aim behind our participation in the Seatrade Cruise Med is to promote the Kingdom as a destination for cruises in order to increase the number of inbound tourists and further develop the industry and overall national economy," said Khan.
Further commenting on the participation, Executive Director Marketing and Communications at the EDB, Vivian Jamal said, "Last year, 40,000 tourists visited Bahrain through cruise ships. The Seatrade Cruise Med is one of the most important global cruise events and is the right platform to promote Bahrain as a destination among exhibitors from all around the globe."
The participation is in line's the Kingdom's tourism strategy launched earlier this year under the brand, 'Ours. Yours'. The strategy, launched by the Bahrain Tourism and Exhibitions Authority in cooperation with the EDB, focuses on four pillars; awareness, attraction, access and accommodation. A key integral component of the strategy is to develop the sea ports in the Kingdom in order to further attract yachts and cruise ships.