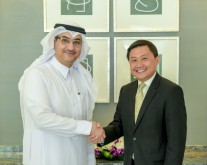 The Ascott Limited (Ascott) will manage another Citadines-branded property located in central Al Khobar in the Eastern Province of the Kingdom of Saudi Arabia (KSA).  Citadines Al Khobar will comprise 54 one-bedroom apartments with various layouts. Managed and operated by Ascott, facilities will include a breakfast area, residents' lounge and fully equipped gym, making it an excellent choice for accommodation amongst business and leisure travellers.
"We are delighted to have signed an agreement to manage Citadines Al Khobar," commented Vincent Miccolis, Ascott's Country General Manager of Middle East & Turkey. "KSA remains a highly significant growth market and this latest signing will not only expand our presence in KSA but also reinforces our leadership position in the Middle East."
"Citadines Al Khobar is the third property, together with Citadines Abha and Somerset Al Khobar, that we will be working with developer AREIC (the real estate arm of Al Mutlaq Group) and we are pleased to strengthen our partnership with them."
Citadines Al Khobar is situated in central Al Khobar, in a highly sought after location between King Salman and Prince Fawaz streets on the 4th main street in Al Khobar Al Shamaliah, which offers numerous dining, shopping and leisure options.