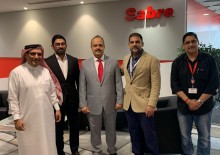 Al Murshed Travel and Tourism has inked an exclusive deal with Sabre Corporation to gain continued access to Sabre's portfolio of innovative technology and its intelligent platform Sabre Red 360, allowing it to effectively harness data and deliver superior content to its travellers.  This unique technology will help enable the travel company to differentiate its offering, compete more effectively and grow faster in the region, as well as expand into the online sector.
"As its long-standing technology partner, we are committed to supporting its plans to enter the online space and providing industry leading technology to support its growth. This is aligned with our desire to empower travel companies to become true travel consultants, and to grow and compete with global players," said Abdul-Razzaq Iyer, Vice President, Sabre Travel Network Middle East.
As a key part of its goal to leverage the growth of online travel in the Middle East, Al Murshed Travel is investing in the latest technology and solutions to advance the services and content it offers its travellers.
"We are working to leverage its expertise and innovations to grow in the online space and serve our customers even better and more efficiently in the future," said Salah Al Murshed, Commercial Director, Al Murshed Travel and Tourism.