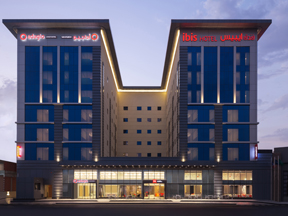 Accor recently opened Ibis Jeddah and Adagio Jeddah at Malik Road. A hub for business, leisure and socialising; the complex offers 178 hotel rooms at Ibis, 77 serviced apartments at Adagio and a raft of shared facilities including Hadiqat Laila a 24-hour café along with innovative meeting rooms, a gym, an extensive fitness and wellbeing centre an outdoor swimming pool with a 12-hour coffee shop.
Mohammed Farajat, General Manager, Ibis Jeddah and Adagio Jeddah, said, "Our stunning new complex showcases two of Accor's leading hospitality brands which are located in one of Jeddah's most sought-after districts, offering guests multiple flexible accommodation options and a comfortable and cozy home-away-from-home environment during their stay with multilingual staff."
"We are proud to partner with Al Mohammadia Al Motahda Company to bring Ibis and Adagio brands for the first time to Jeddah. With close to 60 hotels in the Middle East & Africa under the Ibis family, the opening of Ibis Malik Road represents the strength of the brand within the economy segment, alongside Adagio, our apartment offering with functional spaces in prime city locations," said Sami Nasser, Chief Operating Officer, Accor Middle East & Africa.
Khalid Alturki, Deputy Executive Manager, Al Mohammadia Al Motahda Company, said, "As a fast-growing regional business and tourism hub, Jeddah requires world-class hospitality solutions for its transformation into a fast-growing local and international business and tourism platform. and Ibis and Adagio, the first two established brands operated by one of the world's leading hotel groups – Accor"