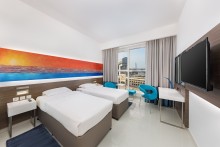 In keeping with the mid-market sector UAE's homegrown brand Citymax launched its second hotel in the Al Barsha area and the fifth across the UAE on June 27, 2019. The opening follows the successful launch of Citymax Hotel Ras Al Khaimah in November 2018, and enhances the Citymax portfolio up to five hotels in operation across the GCC, as well as a sixth Citymax Hotel in Aswan, Egypt. Known for its personality of 'vibrant simplicity' and providing its guests with an unforgettable stay, Citymax Hotel Al Barsha will follow in the same steps, but with an added sense of appeal. This Citymax property is uniquely positioned to cater to business travellers looking for the comforts of a well-known brand, but the exclusivity and warmth of a boutique hotel.
The hotel boasts 120 spacious rooms, including 24 twin rooms and 96 queen rooms. Each floor of the hotel has only 10 rooms, providing a sense of privacy in the heart of bustling 'New Dubai'.  The property hosts a meeting room, with a capacity of 8-10 delegates. One of the most unique features in this property is the special floor dedicated to women travellers who would require a little more privacy, hence the whole floor with 10 rooms are dedicated only for women, catered by women.
"The introduction of Citymax Al Barsha is a milestone for both Citymax Hotels and the UAE hospitality sector, as we're now in a position to offer a niche audience quality accommodation that perfectly suits their business needs, whilst at the same time amplifying the unique warmth of a boutique-style hotel," says Joanne Williams, General Manager of Citymax Al Barsha.