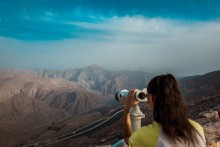 World Travel & Tourism Council (WTTC) will host their inaugural Middle East & North Africa Leaders' Forum in Ras Al Khaimah on October 2nd. The one-day forum will engage 150-200 leaders in keynotes and panel discussions focusing on key themes, including: challenges and investment opportunities; job creation and skill development; climate and environment action and digital disruption.
This will bring together government agencies, industry associations, CEOs and senior leaders of the top travel and tourism companies, experts, and media from across the region.
The WTTC Middle East & North Africa Leaders Forum will delve into contemporary issues facing the sector and discuss growth opportunities to advance the regional agenda.