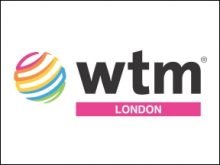 WTM London and Travel Forward are working closely with partners and experts to ensure a safe and successful experience at ExCeL London from 2-4 November, 2020. Detailed plans are being made for every aspect of the shows, which is set to be one of the first major exhibitions to take place globally since the COVID-19 pandemic started.The preparations were given a boost earlier this month when British Prime Minister Boris Johnson gave the green light for conferences and exhibitions to resume in October. WTM London's Senior Director Simon Press announced the live shows' highlights during a virtual press conference which combined more than 200 pre-registered journalists and digital influencers from nearly 30 countries.
Simon Press also revealed the details regarding WTM Virtual event, which is taking place virtually from 10-11 November 2020 to embrace travel professionals from all over the globe, especially the ones who can't attend the live event due to travel restrictions.
UNWTO, WTTC & WTM Ministers' Summit Expands into New Territories
Tourism leaders from around the world will once again come together for the Ministers' Summit – the largest annual meeting of tourism ministers – at WTM London to set out a roadmap for a safer, greener and smarter future for the sector.
Given the unprecedented scale of the challenge facing tourism, the UNWTO and WTM will partner with the World Travel & Tourism Council (WTTC), which is representing the global travel and tourism private sector at the event for the first time in its history, making it the UNWTO, WTTC & WTM Ministers' Summit. The summit will feature a day-long think-tank on Monday 2nd November during WTM London.