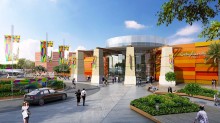 Tourists can now expect to experience a one-of-a-kind shopping destination on their visit to Dubai during the latter part of the year as the emirate is building one of the most exclusive malls in the world with a 365 day miracle garden in the centre.
According to Fahimuddin Sharfuddin, Chief Executive Officer and Board Member, Cityland Group, "With consistent progress on both the construction and leasing side, we look forward to launching Cityland Mall during the fourth quarter of this year and add a unique dimension in terms of retail to the UAE market. We are working to conclude the leasing activities by adding an additional 30 per cent of leased retail space by year-end."
In terms of construction, 60 per cent of the project has been completed as of February 2018. By the end of Q2, 2018 the site will be open for most of the mall tenants to come in and commence their fit-out works. The landscaping contract for Central Park has been awarded to Miracle Garden Landscaping, the company behind the world-class landscaped projects such as Dubai Miracle Garden and Dubai Butterfly Garden. The 200,000 sq.ft. Central Park will provide a unique experience for shoppers and has been designed to accommodate 7,000 shoppers at a time in its vast expanse.