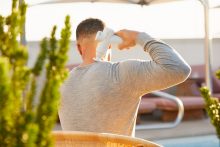 Rooted in its mission of providing signature wellness programs that empower guests to regain control and enhance their well-being when they need it most while traveling, Westin Hotels & Resorts – part of Marriott Bonvoy's® portfolio of 30 extraordinary brands – has reimagined its Gear Lending program, featuring the latest in high-tech recovery and total body strength training equipment. Rolling out at the brand's over 230 properties globally beginning this month, the next generation WestinWORKOUT® Gear Lending program will encompass a library of kits allowing guests to borrow the equipment they need – whenever they want – to optimize their stay and feel their best. The program is available to guests at The Westin Abu Dhabi Golf Resort & Spa and will be rolled out at The Westin Dubai Mina Seyahi Beach Resort & Marina in February.
Over the past decade, through both operational and consumer feedback, Westin has evolved and enhanced its Gear Lending program to meet consumers where they are today. The acclaimed, on-demand program focuses on helping guests maintain their workout routines, wherever they go, without the added bulk of packing fitness gear.
Westin tapped fitness powerhouses for the first two kits of its re-energized Gear Lending program, providing guests with high-quality fitness essentials in-room, on-demand. Global high-performance wellness brand Hyperice features its game changing massage and compression recovery products that are ideal for post-workout recovery, as well as soothing stiffness and tension from long travel. Additionally, direct-to-consumer fitness accessories brand Bala features its beautifully designed and highly versatile total body fitness pieces, providing opportunities for guests to move well both in their guest room and outside, wherever the day takes them. Whether an avid runner that needs recovery tools or cross-training, a yogi that wants to maintain their daily routine, or a guest that wants to relieve tension from a long day of travel and/or a day of meetings, guests now have the opportunity to borrow:
Recover & Recharge Kit by Hyperice, which includes Hyperice's most sought-after recovery gear such as the Hypervolt Go 2, and Hypersphere Mini, as part of Hyperice's ongoing exclusive hospitality collaboration with Westin.
Sculpt & Flow Kit by Bala, which includes Bala's full body workout essentials such as bangle weights, resistance bands, balance blocks, and a Westin branded yoga mat.
"For Westin, wellness is central to our mission. Over the last decade, through our WestinWORKOUT® Gear Lending program, we've helped guests optimize their fitness routines and accomplish more while on the road," said Jennifer Connell, Global Brand Leader, Westin Hotels & Resorts and Vice President, Distinctive Premium Brands, Marriott International. "As strength training and recovery have evolved into essential wellness rituals, we've reimagined our beloved program to be more versatile and partnered with cutting-edge brands that help motivate and inspire guests to reach their full potential."
Hotel guests who wish to bring the WestinWORKOUT® Gear Lending experience home can request an exclusive promotional code to shop the products on the Bala and Hyperice websites. Looking ahead, Westin plans to continue expanding its Gear Lending program with more kits added to the roster as well as additional, enhanced guest experiences.
"As the industry leader in wellness technology, Hyperice always looks to partner with forward-thinking brands to share the power of our recovery technology and reach new demographics," says Jim Huether, CEO of Hyperice. "Following the debut of our Hypervolt recovery stations in WestinWORKOUT® fitness studios at select Westin properties across the U.S. last year, the Recover & Recharge Kit by Hyperice will further help guests achieve their personal wellness goals as part of the WestinWORKOUT® Gear Lending program. Our continued partnership with Westin Hotels & Resorts is the result of bringing two industry leading brands together to deliver the next wave of holistic hospitality.
"Bala was started to make working out feel a bit less like work; to design products as fun as they are functional, said Maximilian Kislevitz, Co-Founder of Bala. "The Sculpt & Flow Kit by Bala within the WestinWORKOUT Gear Lending program is a dream come true, and we're elated to help Westin guests keep up with their routines while on the road."
The Westin experience comes to life through the brand's Six Pillars of Well-Being – Sleep Well, Eat Well, Move Well, Feel Well, Work Well, and Play Well – allowing guests to personalize their stay and engage in programming that best meets their needs. In addition to WestinWORKOUT® Gear Lending program, offerings under the Move Well pillar include the signature WestinWORKOUT® Fitness Studios, and the more than 225 on-property Run Concierges around the world who host group runs and encourage athletes of all levels to grab a RunWESTIN™ map and explore the destination.
To learn more about the brand's Gear Lending program, please visit www.westin.com/gearlending and join the conversation via @westin and #MoveWell.