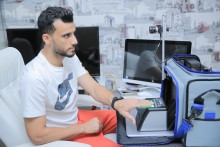 Athletes and coaches from all around the world regularly criss-cross their region, country, or continent as they travel to one major sporting event after another in order to participate and compete. We spoke to Omar Al Souma, Saudi-based Al Ahli football player about the planning and preparation he needs to undertake for his travel. He has been playing football for almost two decades – his popularity skyrocketed in 2007 when he travelled from Syria to Dammam to participate in the Asian Youth Cup and lead his team to victory.
Al Souma says that he has travelled frequently since and requires a visa for most countries he visits. Earlier, he had to visit the visa application centre to submit his application and biometric information but that has changed since he started using VFS Global's new Visa At Your Doorstep service.
The technology-enabled service brings the visa application process directly to the applicant, and that too at their preferred time and location. Recounting his experience, Al Souma said, "I have been playing matches all over and the visa process can be time consuming. Visa At Your Doorstep proved to be the best decision I could have taken for this process as I travel regularly – it not only enabled me to apply for my Schengen visa to France in comfort, but the team was professional, competent and consistently responsive to any questions I had."
"Throughout my Schengen visa application, VFS Global provided a personalised approach which suited my needs perfectly. The application that the French consulate received was very detailed and complete, which I feel was the reason why the whole experience was smooth and most importantly, brief," he added.