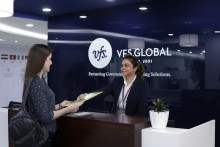 As the leading visa outsourcing and technology partner for several governments and diplomatic missions worldwide, VFS Global has achieved a milestone by processing a record 200 million visa applications. Set up in 2001, the company touched its first 100 million applications milestone in May 2015. Since then, the next 100 million applications were processed over a record four-year period. In 2018 alone, VFS Global processed 26.7 million applications globally – the most number of visa applications processed in any single year, registering a 16 per cent increase year-on-year.
Commenting on this achievement, Zubin Karkaria, CEO, VFS Global Group, said, "We take pride in this achievement of processing our 200 millionth visa application, with 100 million of these processed in a timespan of the last four years. We are grateful for the co-operation of the 62 client governments we serve – 18 of which were added in last four years, pointing to the trust and credibility we have built since we started this journey in 2001."
Even through its rapid expansion, the company has introduced game-changing visa solutions offering greater convenience, reliability and flexibility in service. Some of these are: Visa at Your Doorstep, Mobile Visa Application Centres, the first visa services chatbot ViVA among others, introduced in the recent years. In terms of the total visa market (both outsourced and non-outsourced), VFS Global's share is 15 per cent. Across the world, there are as many as 50 players catering to the visa outsourcing business, and together they hold a market share that is identical to VFS Global. VFS Global today has an unparalleled network of over 3,000 application centres with operations in 147 countries.