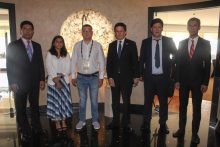 Phoenix Marketing Services organised a special breakfast conference for travel trade from the GCC countries to introduce a country rich in heritage, culture and adventure – the beautiful Uzbekistan. The event, hosted by the National airline Uzbekistan Airways, was attended by Maksad Ikramov, Regional Manager, Gulf Countries and Shukhrat Mirsaidov, Head of Marketing & Network Strategy. Accommodation partner was Amirsoy, a beautiful mountain resort, represented by Davronbek Niyazov, Sales and Marketing Director, Amirsoy, along with Dolores Travel Group, a leading DMC headed by CEO Farkhad Rasulev. Uzbekistan's Ambassador to the UAE, HE Abdulaziz Akkulov graced the occasion, along with Vladmir Jollibekov, Commercial Counsellor, Embassy of Uzbekistan.
In his opening address, HE Abdulaziz Akkulov stated that the connection between the two countries mainly go back in time with its rich history, which places them as a must visit destination. The main fact is that both locals and residents of the UAE are able to travel with visa-on-arrival status, which is a positive sign in travel, as the visa is the first hurdle to discover any destination.
Shukhrat Mirsaidov, Head of Marketing & Network Strategy, Uzbekistan Airlines, said that they are "very happy" to present the airline once again in the market and to be present at the Arabian Travel Market. "Most are not aware that we operate a direct flight seven days a week from Dubai and Sharjah connecting Uzbekistan with the Middle East," he said.
Davronbek Niyazov, Sales and Marketing Director, Amirsoy, shared, "We are bringing a unique product located in Uzbekistan, which is the winter and summer activity with skiing and the high luxury facility to stay in our resort which cater to larger families."
Farkhad Rasulev, CEO, Dolores Travel Group, said, "We could work in various seasons, best time to visit Uzbekistan is spring and autumn. However, we have now for the last two years a ski resort, which was built by a Spanish consultant and this gives opportunity to visit Uzbekistan in winter as well."