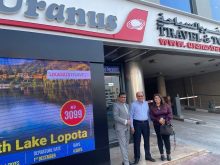 Uranus Travel, a well-known name offering travel and tourism services in Dubai since 1994, has now joined hands with Veena World, one of the most-admired travel companies in India, as their very first OSA (Overseas Sales Agent). With this endeavor, Veena World spreads its wings outside India, while Uranus Travels ventures into the segment of operating escorted group tours. Recently a business meet took place between Mr. Vijay Bhatia, MD, Uranus Travels, and Sunila Patil, Founder and Director, Veena World, in Dubai.
Veena World, headquartered in Mumbai, is a well-established travel company with 19 sales offices across Maharashtra, Kolkata, and Bengaluru and close to 150 sales partners across India, along with their corporate office in Mumbai. Veena World's team of 700+ committed travel professionals, which includes 350+ in-house tour managers who are experienced in leading tours across the seven continents of the world, makes it the largest tour manager force in India
Uranus Travel brings to its clients Veena World's wide range of fully escorted and most affordable family group tours and innovative specialty tours such as Women's Special, Seniors' Special, Honeymoon Special Tours, Short Trips, YOLO Adventures, Treks & Hikes, Luxury Tours and more to destinations across the Indian Subcontinent and around Europe, Asia, Africa, the Americas, Australia, and even Antarctica.
"With this partnership in place, travelers from the UAE are now certain to travel more, explore more, celebrate life, and see more of our big, beautiful world." – Mr. Vijay Bhatia, MD, Uranus Travels
"This adds another feather into Veena World's hat. With close to 150 locations across India, we are now looking at also expanding Veena World's presence overseas. We strongly believe in the potential of showcasing our international destinations along with Incredible India to the world and strive to make major strides in our journey through this step." – Neil Patil, Founder and Director, Veena World