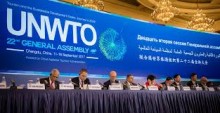 St Petersburg will host the 23rd session of the World Tourism Organisation (UNWTO) General Assembly from September 9-13. Over 1,500 delegates from 158 countries will gather together at the assembly venues to discuss solutions to global issues faced by the tourism sector. The event is organised by the Federal Agency for Tourism of the Russian Federation in cooperation with the Government of St Petersburg, with Roscongress acting as the operator. The business programme comprises of 16 events in different formats: meetings, debates, plenary sessions, presentations, and discussions. The agenda is focused on the topical issues concerning the organisation's operation, as well as the challenges faced by the UNWTO and tourism industry players. The event activities will take place across three venues: ExpoForum, the Tauride Palace, and the Presidential Library.
Working sessions and meetings on UNWTO's performance, in particular discussing its reform and current financial situation, will be held as part of the Assembly. UNWTO's Secretary-General Zurab Pololikashvili will present the report on current trends in international tourism while the World Committee on Tourism Ethics and the Credentials Committee will also present their respective reports. Important discussions will also include the adoption of the UNWTO Framework Convention on Tourism Ethics, as well as the approval of themes of the World Tourism Day for 2020 and designation of the host country for 2021.
The high-level forum on medical and health tourism in the Tauride Palace will be the key event of the Assembly. Head of the Federal Tourism Agency (Russian Federation) Zarina Doguzova, Chairman of the Medical Tourism Association (USA), Jonathan Edelheit and former football player, founder of Bionox Group and UNWTO Ambassador for Sustainable Tourism Fernando Hierro will perform their reports. Debates following the reports will involve ministers and leading experts from countries looking to promote medical and health tourism. The official opening ceremony of the 23rd session of the UNWTO General Assembly will be held on September 11 at ExpoForum. On September 12, the delegates of the UNWTO session will discuss two topics on the global tourism agenda. ExpoForum halls will host Ministerial Debates on education.