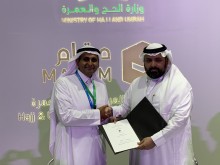 Umrahme.com showcased specialised travel solutions for Muslims at the Hajj & Umrah Forum. The official signing of the MOU between Umrahme and the Ministry of Hajj & Umrah Forum was done by  Abdulrahman Fahd Shams, General Supervisor of Maqam Hajj & Umrah Global Distribution System.  The forum was held from August 26- 28 at the Jeddah Center for Forums and Events and brought together hospitality professionals, tour operators, travel and tourism professionals and airlines across the GCC region.
Headlined by the Minister of Hajj & Umrah, Dr. Mohammad Saleh Bin Taher Benten, the forum was inaugurated by HRH Prince Khalid Al Faisal bin AbdulAziz Al Saud, Advisor to the Custodian of the Two Holy Mosques, Governor of Makkah Region and Chairman of the Central Committee for Hajj and attended by a number of government officials.
Umrahme.com has created a special purpose offering geared for Umrah travellers from all over the world. The portal is designed to help Muslims book and plan their Umrah trip with ease and from the comfort of their homes. The signing of the MOU with the Ministry of Hajj & Umrah, allows the portal to have direct interface with not just the customers, but with around 3,700 global travel agents and around 700 Umrah operators.
Speaking at the forum, Mohammed Mahfouz Salem BinMahfouz, Founder and CEO, Umrah Business, Umrahme.com said, "We believe in minimalism and ease, hence Umrahme has been created with the idea of having a simplified and unified portal for all details regarding booking an Umrah trip from anywhere in the world."
As an approved and licensed Umrah OTA, Umrahme.com is also the first online travel agent offering e-visa support for Umrah, simplifying the application process and making it more accessible for every traveller.