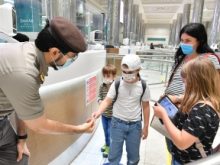 Passport control officers at Dubai International Airport have completed the entry procedures for the first Russian tourist group coming to the United Arab Emirates through Dubai airports after the resumption of air traffic at Dubai airports. His Excellency Major General Mohamed Ahmed Al-Marri, Director General of the General Directorate of Residency and Foreigners Affairs in Dubai, revealed that the GDRFA Dubai issued one million and 678 thousand visas to Russians from 2018 until September 8 this year. Meanwhile, about 800,000 Russian visitors granted visas on arrival during the same period of time.
He added that the number of Russian residents in the emirate of Dubai in 2019 and 2020 reached 21,838, while the number of the Russian residents in 2018 was 7,280. Therefore, the proportion of Russian residents increased during 2019 and the current year by 14,558 residents.
H.E Major General Mohammed Al Marri stressed that the United Arab Emirates in general and the Emirate of Dubai, in particular are the preferred destination for tourists, especially the Russian tourist. He added, "Dubai retained its position among the most livable cities in light of the attractions of tourism and economic elements and its high index of safety and security."
H.E Mohammed Al Marri pointed out that the Emirati-Russian bilateral relations are witnessing continuous development and prosperity in various fields, which in turn affected the strengthening of the UAE's position, confirming its global political, economic, and tourism presence. Besides enhancing cooperation opportunities and comprehensive strategic relations between various countries.
Al Marri said, "We have national cadres of front-line heroes who are qualified to speak in different languages, including Russian, Chinese and French, in addition to Arabic, English and other languages, to facilitate communication with travellers and customers of various nationalities and achieve the highest levels of happiness for them."