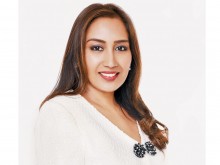 The latest figures released by VisitBritain show that UAE tourist visitor numbers increased by 15% in the first quarter, with 77,000 visitors during the first three months of the year – the strongest first quarter on record. VisitiBritain added that the total spend by visitors from the UAE was also up 9%.
VisitBritain APMEA Director Sumathi Ramanathan said she expects to see a further increase of visitors from the Gulf region over the summer months, particularly with the favourable currency exchange for visitors coming from countries where the currency is pegged to the dollar.
"We are welcoming visitors from the GCC to Britain and we are expecting this summer to see more GCC nationals visiting as we continue our activity in the market to promote Britain as a favourite holiday destination," Ramanathan said. "We're driving a strong value message coupled with great quality to ensure we continue to attract GCC visitors. With favourable currency exchange rates also helping matters, tourism from the GCC to Britain is very much on track for a great performance this
year," she added.