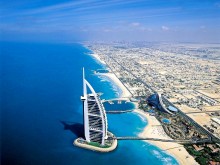 For the second year in a row, the Ministry of Economy is organizing a promotional roadshow under the slogan 'Visit UAE' in the People's Republic of China from March 27 to 28, 2017 in Shanghai and Beijing to showcase the UAE's world-class tourism destinations.
The delegation will be headed by H.E. Mohammed Khamis Al Mheiri, Undersecretary of the Ministry of Economy and Advisor to the Minister for Tourism Affairs. Accompanying him are H.E. Abdullah Saleh Al Hammadi, Director of the Ministry of Tourism's Tourism Department, representatives of tourism agencies in the UAE, hotel and tourism and travel companies. H.E. Al Mheiri said that the latest edition of the roadshow aims to attract more Chinese tourists to the UAE and represents collective nationwide efforts organized by the Ministry of Economy in cooperation with relevant bodies and departments to highlight the country's diverse tourist destinations, attractions, and distinctive and innovative services awaiting tourists.
The Undersecretary pointed out that the UAE's tourism sector is growing rapidly thanks to the full support of the wise leadership. He also noted the continuous development of industry-enhancing infrastructure and sustained investments in innovative tourism facilities and services as well as the diversity of tourism options offered by the different emirates to foreign tourists. H.E. emphasized that the participation in and organization of events abroad are of great importance in enriching the image of UAE tourism among foreign visitors as well as introducing special advantages and incentives offered by the sector to different countries. He added they help secure a greater share of the global tourism and travel markets. H.E. Al Muhairi pointed out that China is a priority tourism market for the UAE due to its great potentials given the strong relations between the UAE and China which was given a big boost last year by the UAE's decision to allow Chinese citizens get their visas upon arrival.