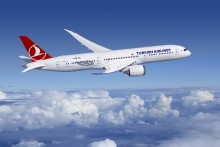 The first Boeing 787-9 Dreamliner flight will depart from the new home of Turkish Airlines, Istanbul Airport, to Antalya on July 8, and its first international flight will be from Istanbul to Denpasar (Bali) on July 17, one of the new routes to be added to the network for 2019, thereafter from Dubai in September. Following those, it will continue to carry passengers on a number of medium and long-haul exotic routes through the summer. They include routes into London, Dubai, Washington DC, New York, Atlanta, Mexico City, Cancun, Bali, Amsterdam, Delhi, Panama City, and Bogota. By the end of August 2019, six 787-9 Dreamliner aircraft will be operational and servicing international routes, heralding the start of a new chapter in the growth of Turkish Airlines' young and modern fleet.
"Turkish Airlines has been committed to continuously expanding its range of services on and off-ground as it grows in reach and flies to more international destinations than any other carrier in the world. With this goal in mind, we're thrilled to reach new horizons with the addition of the 787-9 Dreamliner to our fleet flying from our new home, Istanbul Airport," said İlker Aycı, Chairman of the Board and the Executive Committee, Turkish Airlines. "The aircraft's advanced technology, fuel efficiency, and passenger-centric cabin design will all help us remain the first choice for travellers and provide our loyal flyers across the globe with a best-in-class experience for years to come."
"Turkish Airlines' growth has been remarkable in recent years, both in expanding flight options and supporting Turkey's aviation industry. We are honoured that Turkish Airlines is embarking on its next chapter of expansion with the 787 Dreamliner," said Ihssane Mounir, Senior Vice President of Commercial Sales and Marketing for the Boeing company.