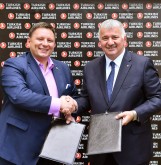 Turkish Airlines and LOT Polish Airlines announced the enhancement of their current codeshare agreement with additional destinations both from Turkish Airlines' and LOT's flight network. "With the introduction of joint flights on several destinations in Poland, Turkey, Middle East and Africa, passengers would enjoy more travel alternatives through the combined flights. Without a doubt, this agreement will help in increasing the commercial and tourism ties of our countries," said Bilal Ekşi, Deputy Chairman & CEO, Turkish Airlines. Joint flights will offer fast and convenient connections for customers leaving Istanbul, the biggest Turkish city and also an important flight hub in the world, to Warsaw and beyond.
" The enhanced partnership with Turkish Airlines will help us not only expand LOT route network and offer many new attractive destinations to our passengers but also improve connectivity and travel experience on existing codeshare routes beyond Istanbul, such as Ankara, Cairo or Amman," said Rafal Milczarski, CEO & President of the Management Board of LOT Polish Airlines.
Passengers will also enjoy both domestic and international connections from Istanbul. Moreover, taking into account the complementary structure of time-tables of both carriers and agreement working reciprocally, it will allow both airlines' customers to enjoy seamless connectivity in their respective hubs. LOT Polish Airlines and Turkish Airlines passengers have also the benefit of accruing and redeeming miles in their respective loyalty programs, Miles&More and Miles&Smiles on all flights of both carriers.