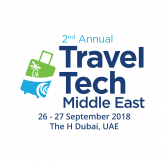 The second edition of the Travel Tech Middle East Congress (TTME) will be held at The H Dubai from September 26-27. "TTME's agenda is replete with relevant topics and presentations, with top industrial leaders on board to present and speak, we are very thrilled to host this congress next month. This event is set to make a tremendous impact for the travel technology in Middle East and Verve Management is set to be there to provide this platform for all interested organisations looking to invest in Middle East region and learn about the market", says a team member of Verve Management.
Verve Management is delighted to have Albert Fernando (Travelwings), Albert Dias (Musafir), Matthew Sliedrecht (Cleartrip.com), Brett Henry (Travel Daily) and Andrew Pearson (Intelligencia Ltd.) on-board to present on the evolution of metasearch for travel & tourism, leveraging data-driven insights in corporate travel, top traveller behaviour trends, Travel Marketing and Artificial Intelligence at TTME 2018, respectively.
Another additional panel which has recently been added on the agenda is the "Industry challenges for travel start-ups to solve" with confirmed speakers like, Diego Lofeudo (Sr. Executive Digital Expert & Former member of Expedia Leadership Team EMEA), and Vineet Budki (Guiddoo Worldwide) joining the panel. Vineet is also taking up a presentation on bitcoin for the travel industry. TTME Speakers will also include: Geet Bhalla (HolidayME), Nabil El Shafeay (Visit &Go), Paulina Klotzbucher (Travelstart), Haitham Abdel Baki (Millennium & Copthorne Hotels), Mamoun Hmedan (Wego), Sameer Bagul (Cleartrip.com) Anna Trushkina (Wego), Philip Jones (Movenpick Hotel Jumeirah Beach) and Stephen Meredith (Steigenberger Hotels & Resorts).