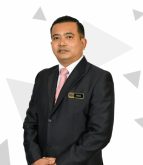 The fifth edition of the Gulf Travel Show kicked off with a special press conference with Mohamed Amirul Rizal, Senior Deputy Director, International Promotion (Asia Africa) Division Tourism Malaysia chairing the press conference. In his opening remarks he welcomed the media for attending the event sharing that this is the fifth consecutive time that Tourism Malaysia participated as Platinum partner with the Gulf Travel Show to network with the travel agents and tour operator partners in the Middle East, especially in the GCC. He also thanked everyone for their dedication and commitment to make Malaysia top of mind destination in the region.
He reiterated that entry requirements to Malaysia are now eased, and you can travel hassle free to explore the destination. It is no longer necessary to have pre-departure nor on arrival PCR tests nor have a special covid insurance etc. Instead, he stated that Malaysia is hassle free and everyone is welcome to travel without any quarantine or testing as their vaccination drive including children and retirees hit over 86% hence after two years of stringent border controls now it is time to explore the destination which has a lot more to offer to guests especially from the Middle East/ GCC countries.
Connectivity is of utmost importance for all destinations, sharing his thoughts on this, "we work with our airline partners such as, Emirates, Etihad, Qatar Airways etc, at present we are looking at further strengthening our network with SAUDIA, Egypt Air and Air Arabia to have more connectivity to our destination from the Middle East. After the pandemic and the borders opened we received about 23,000 visitors from the Middle East from 1st April 2022, however, we expect a total of about 50,000 for the next few months. We expect the Middle East market to bounce back to pre-covid 2019 levels by 2025."
"In the travel industry we want to continue building our strong relationship with travel partners, travel agents and others to make sure that the relationship between Tourism Malaysia and our travel partners are relevant and also stronger after the pandemic. After two years of the pandemic most of our industry partners suffered a lot that's why we have come together virtually to show our interest to work together with our travel partners."
Speaking on the new hotels, attractions etc, he shared about the newly opened outdoor theme park "Genting Skyworlds theme park" as well as the magnificent Merdeka 118 tower in Kuala Lumpur currently standing as the world's second tallest building. Desaru coast is one of the more contemporary hotels added to their lists and the night market which is close to Kuala Lumpur airport will be a last minute shopping adventure to be added on especially before travellers depart to their relevant destinations.
Malaysia with all its natural beauty and resources are waiting to welcome international visitors from across the globe, but Middle East is one of their most important markets as they cater to all the needs of the travellers from this region and ensure that their stay is more memorable and will return. At the end of the press conference he invited everyone to come and experience the beautiful Malaysia.