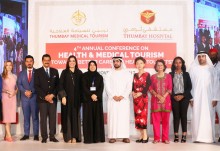 The Thumbay Group has vowed to support the goal of securing 500,000 health/medical tourists to Dubai by 2020. This was revealed at the recently-concluded 4th Annual Health & Medical Tourism Conference held at Hotel Hyatt Regency – Dubai Creek Heights and organised by Thumbay Medical Tourism in association with Thumbay Hospital. The conference brought together industry experts from healthcare, travel, medical tourism and medical education sectors. The half-day event highlighted the latest trends and developments in medical tourism and explored ways to boost health tourism the UAE.
Speaking at the conference, Dr. Layla Mohamed AlMarzouqi, Director Dubai Health Tourism Council, said that Dubai is well-positioned to achieve its goal of welcoming half a million international patients by 2020, thanks to the support of key players in the private sector like the Thumbay Group, which announced its plans to attract 1,000 tourist per day to its facilities across the UAE. Dubai currently ranks number 1 in the Arab world and 16th globally, based on the 2016 Medical Tourism Index.
In 2016, the number of health tourists visiting Dubai reached 326,649, an increase of 9.5 per cent compared to 298,359 the previous year. Top medical and health treatments sought by visitors to the emirate were orthopedics, dermatology, dental, fertility, health and wellness, ophthalmology and aesthetics. Akbar Moideen Thumbay, Vice President of the Healthcare Division of Thumbay Group, reiterated the conglomerate's commitment to Dubai's plans of becoming an international hub for health tourism, by adding three new hospitals, five clinics, 15 pharmacies and five diagnostic labs to its existing network.