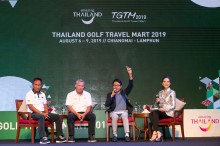 The Tourism Authority of Thailand (TAT) organised the fifth Thailand Golf Travel Mart (TGTM) 2019 between August 6-9, in the kingdom's Northern capital as part of an ongoing strategy to further develop a very important source of high-spending, long-staying customer segment. The event attracted a contingent of 116 top golf tour operators from 24 countries, the top five of whom were from China (22), Japan (17), India (9), South Korea (8), and Singapore (7).
To broaden the exposure of Thailand's golfing attractions, TAT carefully screened and invited 59 first-time buyers, especially from new markets; such as, Austria, Belgium, Czech Republic, Luxembourg, the Netherlands, Slovakia, Portugal and Sweden. The Middle East had a contingent of avid golfers from the UAE who were specially flown in for the event. Amongst the 97 Thai exhibitors, mainly representatives of Thailand's stunning golf courses and resorts, 37 were from the Central Region, 23 from the East, 22 from the North, 10 from the South and 5 from the Northeast. They included 39 first-time sellers. The topic of the panel discussion was  "Thailand beyond a Premier Golf Destination" featuring Tanes Petsuwan, TAT Deputy Governor for Marketing and Communications, Thongchai Jaidee, a Thai professional golfer and David Rollo, Vice President, Golf – IMG Events.
The previous four TGTMs have been held in Hua Hin, Pattaya, Khao Yai and Phuket to highlight the geographical and professional diversity of the kingdom's leading sports tourism sector. Chiang Mai, the city known as the Rose of the North, is a very important golfing destination with international standard golfing facilities set amidst the backdrop of picturesque natural landscapes, rich history, and culture of the Northern region. The World Golf Travel Agents Association recently named Thailand as the "Best up and coming Destination for Golf Vacations." Chiang Mai itself was voted The Next Golf Destination of the Year Asia & Australasia 2017 by International Association of Golf Tour Operators (IAGTO).