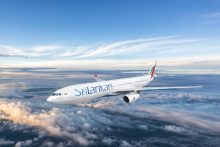 SriLankan Airlines is expected to play a pivotal role in the country's economic recovery. Fully owned and backed by the Government of Sri Lanka, the Airline was forced to suspend scheduled services in early April as Sri Lanka took a tough stand on battling COVID-19. Now, with Sri Lanka's health and safety situation under control, the Airline is ready to take to the skies and connect Sri Lanka with the world again.
Discussing the reopening of Sri Lanka's borders, the Chairman of SriLankan Airlines, Ashok Pathirage said, "Despite the challenges we face, we are looking forward to the reopening. Even though scheduled services were suspended, as the National Carrier, we have been working to provide relief flights to repatriate stranded Sri Lankans and other nationals. We have also been providing much needed cargo facilities to support our export industries and bring down essential emergency equipment and supplies to deal with the pandemic. We have been working around the clock to adapt our operations to meet health & safety guidelines and the challenging requirements of the 'new normal'."
Ashok Pathirage is one of Sri Lanka's foremost business leaders and is the founder of the Softlogic Group, a leading Sri Lankan conglomerate. In addition to his role as Chairman of SriLankan Airlines, Pathirage oversees more than 50 market-leading companies with interests in retail, telecommunications, healthcare, finance, IT, leisure and autos. He was invited by the Government of Sri Lanka to assume control of SriLankan Airlines in late 2019, with a view to transforming it into a more profitable and progressive enterprise.
Elaborating on the health and safety measures taken by SriLankan Airlines, Pathirage explained, "We have taken every reasonable precaution to minimize the risk of transmission of disease, thus ensuring the safety of our passengers and crew. Each aircraft is subjected to cleaning and disinfection before and after each flight. We have even removed all reading material from seat-back pockets and provided a mechanism for online pre-ordering of in-flight duty-free items to minimize physical contact."
Pathirage went on further to say, "Each aircraft is also equipped with regularly serviced and replaced, industry-standard hospital-grade HEPA (High-Efficiency Particulate Air) filters, certified to remove 99.97% of all viruses from circulating air within the passenger cabin. Therefore, we are happy to say that our passengers can travel with us and enjoy our signature Sri Lankan hospitality without fear. In fact, my own business and personal travel arrangements will see me flying on SriLankan's scheduled services once operations recommence."
Discussing the role of the National Carrier during the crisis and now during the recovery, Pathirage went on to say, "As the National Carrier, we're more than simply an airline business. We have a moral and ethical obligation to support the nation and its citizens during times of crisis; and that's what we did. We conducted numerous relief flights, including one to Wuhan, China during the height of the pandemic. Our brave crews put their lives at risk to ensure the safe passage of stranded Sri Lankans."
Pathirage noted, "We are no strangers to ensuring the safety of our guests during times of crisis and we will simply return to doing what we do best, welcoming the world with open arms and treating people to our warm hospitality, enchanting natural beauty and amazing people and culture."
Reflecting on the economic realities of aviation in the post-pandemic world, Pathirage explained, "Globally, the industry expects to face losses exceeding 84 billion dollars in 2020, as per IATA's June 2020 financial outlook figures. However, the global aviation industry has been built and grown in an environment of uncertainty from its inception. Uncertainty is the norm in this business and we are adapting to the present uncertainty. Personally, I believe that every problem is also an opportunity and this crisis is an opportunity for SriLankan Airlines to shine and fulfil its role as the National Carrier; to be a catalyst for driving the country's economy as we reopen our borders and emerge from this crisis, whilst preserving our identity as a global award winning airline, renowned for our warmth and hospitality."