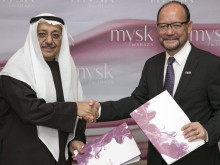 Shaza Hotels has announced the signing of its first Mysk Hotel in Kuwait. Situated opposite the Messilah beach district on the south coast of Kuwait City, the new property is already under construction and is set to welcome guests at the beginning of 2020. The hotel stays true to the Mysk promise by designing a trendy destination combining urbanity with traditional Arabian hospitality.
"Al-Yousifi group is thrilled to be an active player shaping the new face of the Kuwait hospitality market. We are very confident that Mysk Hotel in Kuwait will set itself apart from the crowd by emphasising on bold design, innovative marketing, social influence and world-class hospitality," said Dr. Adel Al-Yousifi, owner of the hotel.
The launch of Mysk Hotel in Kuwait will coincide with a social media campaign to attract locals and visitors wanting to experience a new, stylish and cheerful venue in the city. Located at a distance of 15 minutes away from the airport and boasting magnificent sea views, the 200-room hotel also hosts meetings, conferences, exhibitions and weddings.